Machine Plus has two Mazak Turning Centers to create cylindrical metal parts. These machines have a lathe, computer numerical controls, as well as offers milling, drilling, and tapping operations. Our expert machinists are capable of creating quality parts with smooth finishes.
CNC Turning Center Highlights
15" diameter and 39" long max
3.15" Thru Spindle Hole
Live Tooling
Programmable Tail Stock
Collet, 3 & 4 Jaw Chucks
 Bar Puller with Spindle Sleeves
Our CNC turning centers are designed with quality, reliability, and ease of operation! They incorporate the latest and most advanced turning technology that allows us to boost our productivity and get you parts faster.
We can handle simple to complex turning operations. Machine Plus has the versatility to program parts using either conversational programming or G-code programming, or even a combination of the two programming types.
Equipment Benefits
 High torque, high-speed turning & milling spindles provide fast and accurate metal removal
Tool spindles deliver the milling, drilling, and tapping capabilities
Roller guides provide durability and reliability to part accuracy
Bar feeder and gantry loader increases production
Twin spindle configurations provide innovative part processing
Allows for cuts with fine mathematical precision
Reduces production costs significantly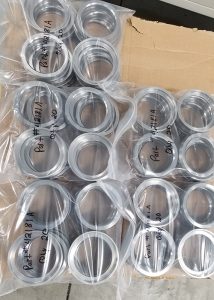 Our CNC turning centers allow us to shape objects with high precision cuts. This equipment gives us the ability to spin metal to create rotational symmetry and bring parts to a predetermined shape and size.
Our 10,000 square foot machine shop houses two Mazak CNC turning centers, OKK & HASS Vertical & 5 Axis Machining centers, Master-Cam with 3D capability, TIG welding equipment, Sawing department, cranes up to 1.5 tons, and other machining equipment.
Machine Plus LLC is a high-quality custom machining shop. We have years of experience in making metal parts for a variety of different manufacturing industries. We are dedicated to superior workmanship and attention to detail. Get in touch with us today to discuss your project.